As we fold up our beach blankets and say goodbye to summer I took a look at some fresh new sustainable autumn workwear brands I could pull out this fall!
Published by Ecomogul Magazine
Sure,  a lot of the sustainable slow fashion brands have that crisp white organic cotton shirt in various styles but what about the ones who want to go slightly more adventurously dressed. I found a few brands that fit right into that category!
LUXURY WOMENS WEAR
CROSS A LINE is a luxury womens wear label focused on the love for Denim, textile craft techniques, and design. Cross A Line is a denim-oriented brand working with Khadi denim, handloom denim, cotton denim treating them with various techniques and washes. Each piece is designed autonomously and when paired together brings to life the labels underlying ethos. Thus becoming a harmonious blend of beauty and rebellion. Dynamic detailing, exquisite textures, luxury fabrics, and delicate embroidery are pieced together with tough, androgynous, statement denim essentials.  It's about making women feel empowered, perfect and neutral enough for work as well.
This collection is made on Khadi denim that has been made in collaboration with Denim Club India. Lastly, every piece in the collection is hand finished with a treasured element of tucks, beading or embroidery.  I absolutely loved their vegetable-dyed khadi denim beige knee-length dress that she showcased at fashion week last year.
They also have a lot of other fun and intricate designs on their website – https://www.crossaline.com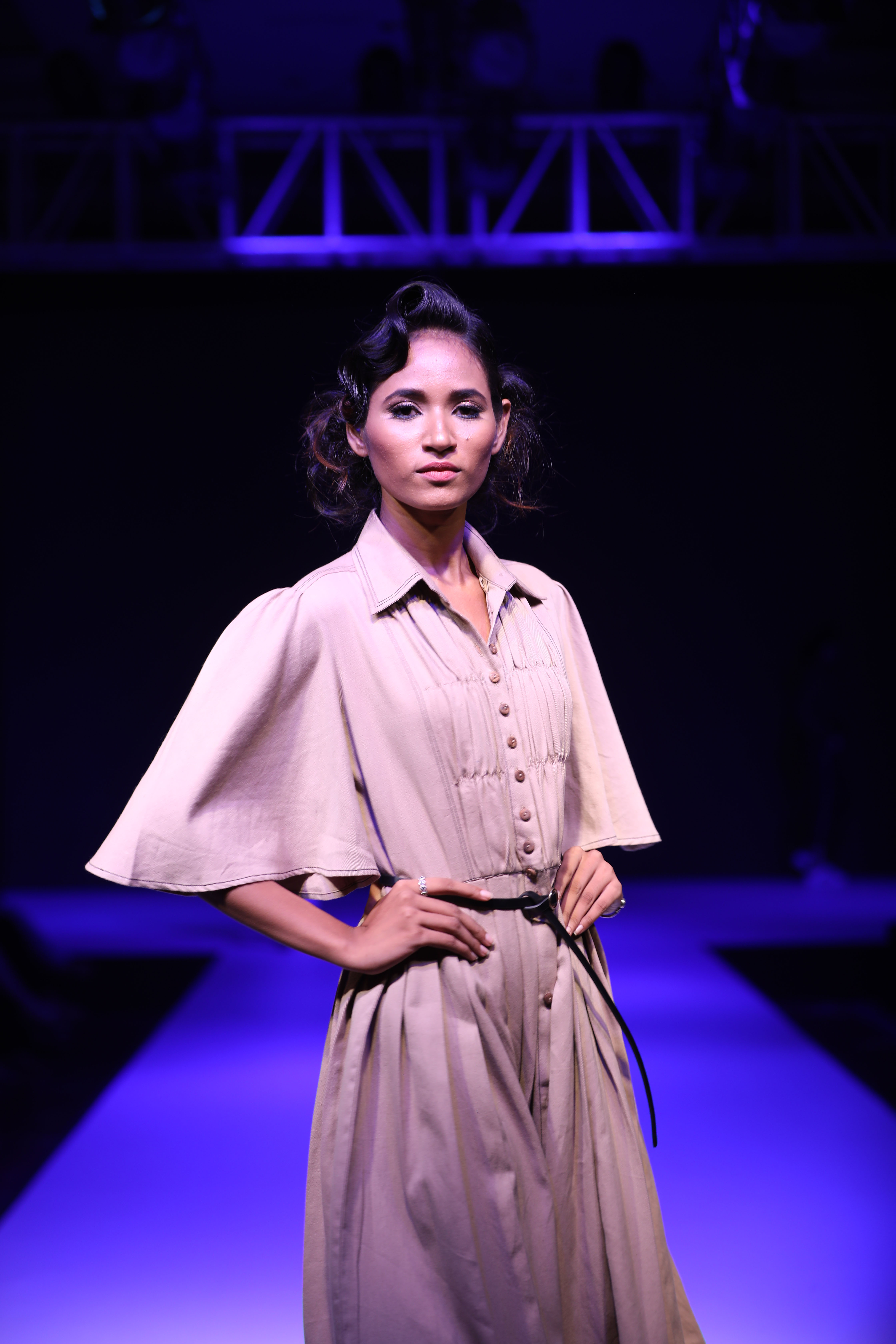 I AM SALT PETRE – This brand stands out by making a plain weave of fibres extracted from Eucalyptus trees! They build their products to be fashion-trend-agnostic. Their designs have a very minimal, functional and comfortable feel  . They are sourced from suppliers that are eco-friendly certified. Every shipment of Saltpeter comes with some herb seeds.
By using their specially designed 100% biodegradable packaging to incubate the seeds for 4-6 weeks in which time they should germinate into saplings the brand gives customers a small way to help offset some of the environmental impact and can build their own edible garden. Unless you measure something, you don't know if it is getting better or worse and so this brand proudly tracks the environmental footprint of their products from cradle to grave and shares this information with an independent research team at Indian Institute of Technology. https://www.iamsaltpetre.com
JAMES LUCY – James Lucy is a London based social enterprise, and their watches are the first in hopefully a large range of products that will generate money for them to donate to our panel of charities around the world. For a luxury brand it is highly impressible that they donate 50% of their profits each year to our charities. The interesting part of this business is the charities they donate to such as friends of the earth trust, trees for cities, cool earth, etc. Their hashtag #timeforchange is ideal for this . Honestly, I felt one of these charities was the most apt for this story as well! Trees for cities work on an international scale specializing in planting urban trees and providing volunteering opportunities to bring local people together. They are a game-changing, ambitious organization that sets the standard for urban forestry worldwide. https://www.jameslucy.com/
MOVINUN- This brand from Slovenia is a made to order brand. Their designs matched perfectly with sustainable autumn workwear! When one orders from their online shop, they go to action and as soon as possible contact their amazing seamstresses. The company checks on timelines and writes back how long it would to produce the garment — which would be around ten days!
I have their organic cotton, GOTs certified fabric. It is a dress that has these unique elements of handmade porcelain buttons on the sleeves. I totally added this to my extra stylish workwear gear! Apart from that, Behno focuses on fair trade minimalism and uniqueness.  https://movinun.com/english/
BEHNO – This bag brand was listed number 5 in the worldwide green carpet challenge. Behno is NYC based but manufactures in various factories in India . The brand  is creating several causes in the way of health, garment worker mobility, family planning, women's rights, worker satisfaction & benefits, and eco-consciousness. Behno designs each collection to promote slow-fashion. Basically consumers buy what they love for the years to come. Their designs that are perfect for our autumn sustainable workwear article.
The label also creates curated capsule RTW collections upon request and on a project basis.   This is to promote artisan and ethical techniques. Behno retails in the top stores in the US!  My favorite is the classic mini crossbody in bone, lined with upcycled twill cotton. Their website is a must-see – https://behno.com/
Read more: www.sonyavajifdar.com
Follow Sonya: @sonyavajifdar
---